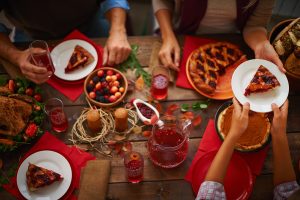 While we are preparing to celebrate our
holidays
, it is easy for us to put off some of our "less important" routines to make room for all of the social events filling up our holiday calendar. Unfortunately, one of the first routines to go is our dental ones. But with all the holiday sweets and treats everywhere we look it is even more important to keep our teeth healthy. After all, what is a holiday party without some photos?
Dental health
is something that needs to be maintained year-round. Not only does it affect your smile, but lots of health issues can be prevented by keeping our mouths healthy because our mouths are the first line of defense for many health issues. During this holiday season, keep these dental tips in mind:
Daily dental routines.
Each day make sure you take some time out to give our teeth a good scrubbing. Brush twice a day for at least two minutes using a soft-bristled toothbrush, floss at least once a day and rinse with a fluoride mouthwash. If you have little ones, it's important to start these routines early in order to instill good health habits, so make it a family affair.
Moderation is key.
Far be it for us to tell you what to eat, but it is important to think about how much you are enjoying during the holiday season. We all seem to gain a bit of weight during this celebratory time, but too much can have an adverse effect on our smiles if we don't watch how many sweets we consume. So, enjoy the holiday season – just don't forget about the health of your smile.
If you would like more information about holiday dental tips, call Dr. Katia Doumit in Ottawa, Ontario at 613-232-8000 or visit www.lesplanadedental.com.
Dr. Doumit proudly serves Ottawa and all surrounding areas.