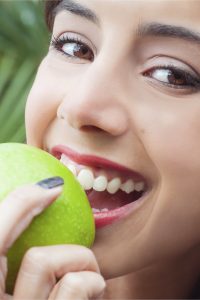 It's one of the first solid foods we get to try as a baby. It is one of our favorite juices as a child and it is notorious for helping us dodge doctor appointments. Yes, the apple is one sweet treat that we have our entire lives, in all of its various forms. Originally from Central Asia and with 7,500 varieties available around the world, apples have become world-renowned as a go-to fruit. So much so, this Saturday (September 19) is
International Eat an Apple Day
. But it isn't just the sweet snack that has captured our hearts – apples also have loads of health benefits that range from our bones to our heart, but it also greatly improves our smile. It's true – this crispy fruit is fantastic for producing saliva, which is our natural way of keeping our mouths clean and bacteria free. Additionally, the fibers within the apple play an added role in
cleaning our teeth
in a way similar to a toothbrush. Now, it's not a substitute… Apples are a healthy snack but shouldn't replace your daily dental hygiene routine. These are just natural ways that you can improve your smile while enjoying a tasty treat. So, how do you celebrate International Eat an Apple Day? By enjoying this delicious fruit in all of its autumnal glory. Snack on an apple with a bit of peanut butter or a slice of apple pie. In fact, because this fruit is international, why not try some German apple cake or Polish apple pancakes? Even the French and the English got in on the fun by making a popular fermented drink called cider. So, have yourself an apple party, spin a globe and take an appley trip!
If you would like more information about the benefits of apples, call Dr. Katia Doumit in Ottawa, Ontario at 613-232-8000 or visit www.lesplanadedental.com.
Dr. Doumit proudly serves Ottawa and all surrounding areas.