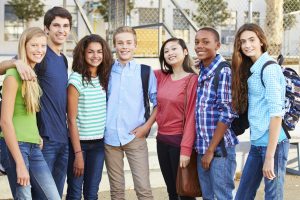 We've all been there – puberty is one of the most topsy-turvy times a person can have in their lives. Between the physical changes and the hormones kicking in full throttle, life decides that social relations are also intricate to our development. And for many of us, the hormones are making a mess of that bit.Because teens are very into social media and getting their likes, physical appearance is important to maintain. But if your physical issue is a flawed smile, it can become a self-conscious disaster during these formative years. And unfortunately, traditional braces don't exactly help on the social scene. Thankfully, there is a solution to your teen's social discomfort –
Invisalign Teen
. Invisalign Teen is a fantastic way for your teen to straighten their smile in the most discrete way possible. Rather than traditional braces, Invisalign Teen straightens teeth through the use of clear, removable aligners as they slowly move the teeth to their proper position. Here are some basic benefits to choosing Invisalign Teen, as opposed to the traditional method:
If your teen plays sports, they won't need to worry about brackets getting knocked out while playing.
If they are more into the arts, playing an instrument or acting in a play won't be an issue.
You no longer have to worry about broken wires or brackets due to diet restrictions. They can eat as much popcorn as they want.
Daily dental hygiene won't need to change as the trays are removeable and cleaned separately.
Your teen will be awkward during this time in their lives, but if you can help prevent undue stress while also improving their smile, you may want to consider
Invisalign Teen
.
If you would like more information about Invisalign Teen, call Dr. Katia Doumit in Ottawa, Ontario at 613-232-8000 or visit www.lesplanadedental.com.
Dr. Doumit proudly serves Ottawa and all surrounding areas.