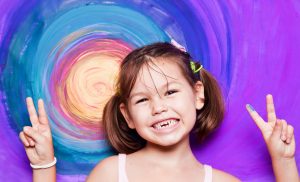 Every year on April 14th, the world gets together to share a good laugh. Created in 1997 by Izzy Gesell, International Moment of Laughter Day was put into place to remind people that laughter is the best medicine. He said, "Laughter comes right after breathing as just about the healthiest thing you can do. It relieves stress, instills optimism, raises self-confidence, defuses resistance to change, and enhances all your relationships."
To celebrate this incredibly positive day, we present you with a quick checklist of rules to keeping your smile bright and shiny enough to show off:
Brush twice a day for at least two minutes each session
Floss at least once a day
Rinse with fluoride mouthwash to loosen stuck debris
Limit daily snacks, and opt for healthier ones that those full of sugar
Visit the dentist every 3-6 months for regular checkups and cleanings
When brushing your teeth, time alone isn't the only factor – you need to make sure that every surface is brushed and cleaned as thoroughly as possible for optimum dental health. And brush all of your teeth, not just the ones people can see. Use short, gentle strokes, paying extra attention to your gums, back teeth and all areas around dental work to give yourself the best cleaning.
Flossing is one of those things everyone pretends they do, but rarely do. When it comes to flossing, follow the following technique:
Start with about 18 inches of floss, hold it between your thumbs and index fingers, then gently slide it in between the gaps of your teeth. Slowly move the floss back-and-forth to bring it away from your teeth without causing any harm. Your dental appointments are going to be a breeze!
Schedule your appointment today. Call Dr. Doumit in Ottawa, Ontario at 613-232-8000 or visit www.urbandentalcentre.com.
Dr. Katia Doumit proudly serves Ottawa and all surrounding areas.