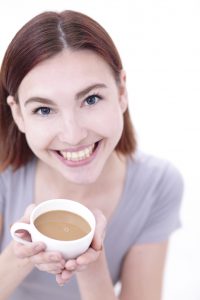 Are you a fan of drinking tea? Is it the one hot beverage you go to when you want to warm up your bones? You aren't alone. Every second, people around the world consume 25,000 cups of tea. That's 2.16 billion cups of tea each day! Tea is loved so much that the United Nations declared May 21st International Tea Day to celebrate the importance of tea in our lives in order to promote its production and consumption.
You may not be aware, but tea is not only helping solve issues of poverty and hunger around the world. There are millions of families in developing countries that base their entire livelihood on producing tea for all of us around the world. And because tea is a way to stave off hunger, it is consumed by many remote, disadvantaged countries. Tea is not only fantastic with its health benefits, like preventing tooth loss, but is also a cornerstone to many cultures.
But it doesn't matter if you love your tea hot or iced, if you're a superfan, you know that it begins to stain your teeth after some time. This is why it is very important to keep up with your daily dental hygiene. Brush your teeth for at least two minutes twice a day, floss and rinse to ensure that your stains stay away for as long as possible. At your regular checkups, you can mention any whitening treatments you would like to brighten your smile. So, enjoy your cup of tea. Not only will it heal your body and soothe your soul, but it is also helping your fellow man.
Schedule your appointment today. Call Dr. Doumit in Ottawa, Ontario at 613-232-8000 or visit www.urbandentalcentre.com.
Dr. Katia Doumit proudly serves Ottawa and all surrounding areas.