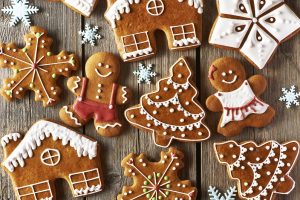 Now that we are smack dab in the middle of the holiday season, it is a good time to refresh on some dental tips to keep your smile healthy. After all, this may be a different type of holiday season, but that doesn't mean we need to change all of our favorite things that this time of year brings: We all know holidays are jam-packed with loads of foods, but there are many ways you can damage your teeth if you overindulge in certain things. Candy canes, for example, are a classic holiday treat. But they are also a hard sugary candy, and that can damage your teeth if you aren't careful. Stockings also tend to be filled with sugary sweets. Why not try to limit the treats in exchange for other options? Or better yet, gift them a new toothbrush! When it comes to snacks and meals, there are lots of options to keeping your diet and mouth healthy. Indulge in more fruits and veggies than cakes and cookies when grazing the snack table. They are not only filled with great vitamins, but chomping on them produces saliva, ideal for washing away harmful bacteria. Other holiday staples are cheese and turkey, and both of those are the perfect options as they contain lots of proteins and calcium to strengthen your teeth. When it comes to holiday beverages, keep things simple. If you are a wine drinker, white wine won't stain your teeth like red. If soda is the option, try to limit these super sugary drinks, or opt for fizzy water. After all the festivities are done, make sure you practice proper dental hygiene. In fact, hum a holiday tune while you brush!
Schedule your appointment today. Call Dr. Katia Doumit in Ottawa, Ontario at 613-232-8000 or visit www.lesplanadedental.com.
Dr. Doumit proudly serves Ottawa and all surrounding areas.