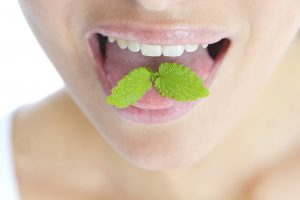 As we prepare to attend all of the holiday events of the season, we are sure to look our best. After all, social gatherings are made for taking photos and catching up with friends and relatives. But are you making sure your breath is also party-friendly? Bad breath can not only affect your social status but can cause other dental issues as well. So, how can we prevent it from happening?
Bad breath is commonly caused by our diet – those onions and garlic dishes can turn any mouth into a smelly cavern, but bacteria is the main issue we should be aware of when it comes to bad breath detection. Removing the bacteria from your mouth is essential to keeping bad breath at bay and maintain good health overall.
If you find that you have been a victim of dragon breath, you can rectify the situation with proper dental hygiene. When brushing, make it a point to brush your tongue as well as every tooth, because it is possible for bacteria to get inside the gums and cause gum infections, gum disease and even tooth loss. If you aren't sure you are doing a good job, your dentist will be able to direct you in the right direction when you show up for your regular checkups. So, if you want clean fresh breath and a healthy smile, make sure you take care of your teeth. It is necessary to always brush and floss as often as possible throughout the day. If a toothbrush isn't readily available, pop in a stick of sugar-free gum until one is available.
If you would like more information about bad breath, call Dr. Katia Doumit in Ottawa, Ontario at 613-232-8000 or visit www.lesplanadedental.com.
Dr. Doumit proudly serves Ottawa and all surrounding areas.