Children's Dentistry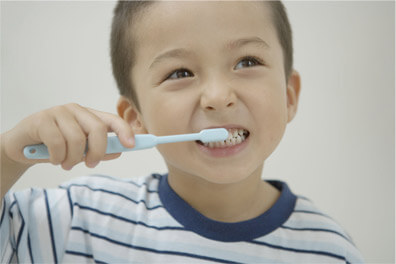 Comprehensive dental care for children, adolescents:
We start seeing our younger patients between the ages of 18-36 months. Our staff has a way with kids that puts them at ease and educates them on the importance of dental hygiene. Your children's regular dental visits will be educational and fun, building a sound basis for a lifetime of good dental health. We even offer a children's "get acquainted" visit at no charge so the little one's first visit can be all about fun and learning.
Preventive Care
Diet and Nutritional Counselling
Ask your dentist to assess your child's diet
Do not stock your pantry with sugary or starchy snacks; buy "fun foods" just for special times.
Choose nutritious snacks like fruits, vegetables, cheese and yogurt. Limit the number of snacks. Provide a balanced diet, and save foods with sugar or starch for mealtimes. Don't put your young child to bed with a bottle of milk, formula, or juice
If your child chews gum or drinks soda, choose those without sugar. Brush at least twice a day with fluoride toothpaste.
Flouride Treatment
Makes teeth more resistant to decay
Repairs tiny areas of decay before they become big cavities
Makes germs in the mouth less able to cause decay
Dental Sealants
Some types of teeth need a little more care and attention than others. Some people, for example, have grooves and fissures in their molars. These grooves collect plaque and keep it there. Since the bacteria found in dental plaque cause decay, the longer the plaque remains on a tooth's surface the more likely it will be able to form a cavity. By bonding sealants of plastic resin into the grooves, we make the surface of your tooth smoother and so much easier to clean. This is especially important for children who may not brush well enough or who have a history of dental cavities.
Interceptive Orthodontic Treatment (Early Orthodontic Treatment)
The goal of early diagnostic and treatment is to correct the growth of the jaw and certain bite problems, such as underbite. We ensure early detection and diagnostic of any potential orthodontic problems as early as age seven. Early treatment also helps to make room for permanent teeth to come in properly, lessening the chance of extractions in the future.