What is a Dental Implant?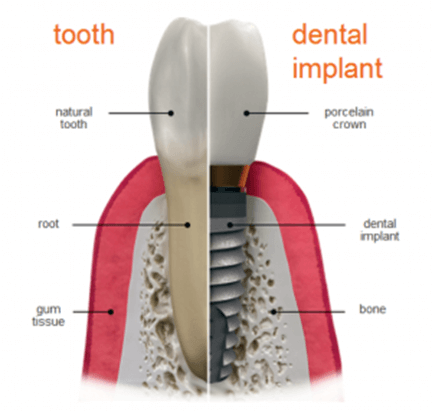 A type of dental treatment which is intended to replace a significantly damaged natural tooth with a replacement tooth is what one means by implants. It's basically an invasive process which replaces the root of the teeth with screw like titanium posts, and then places the replacement teeth which looks as well as functions completely natural. If you are looking for an alternative to denture, partial denture or dental bridge have a talk with our Ottawa Denture Implant Centre for this surgery which allows chewing for all types of food.
You should replace the missing teeth as soon as possible so that the surrounding teeth do not shift in that gap. Because, that can lead to further tooth loss and also cause a number of other oral health issues. With our Dental Implants Ottawa On you have an excellent permanent solution to replace the missing tooth with an artificial one. Just get an estimate of the approximate Cost of Tooth Implant Ottawa before opting for the process.
Step by Step Procedure of Dental Implants Ottawa:
The entire oral surgery is performed in several stages, with some recovery time in between the stages:-
Extraction of the damaged tooth.
If required Bone Grafting(Jawbone Preparation)
A metal post is placed which functions as an artificial tooth root.
Then a gap of a few months is given which serves as the healing time for soft tissues around bone growth and dental implant.
Often, an additional surgery is carried out in order to place a special attachment called Abutment.
Placement of the artificial tooth.
Our Ottawa Dental Implant Centre is just gold standard for replacing the missing teeth or a single tooth as with this implant surgery you can not only improve the function of the teeth and the gums but also enjoy long term health benefits. In order to replace your missing teeth, several different ways can be employed by our dentists which mainly depends on the type of implant procedure that would be required specifically for your teeth.
How long will Dental Implant in Ottawa On last?
When you visit our Ottawa Dental Implant Centre, and undergo the surgery, it's definitely going to consume a lot of your savings as the Cost of Tooth Implant Ottawa is not that cheap. Then, the general question arises as to how long the Dental Implant will last. Although the longevity of dental implants depends on a number of factors like the patient's lifestyle and routine dental hygiene but with our advanced computerized planning technology, failure of implants are very rare. '
But, with regular dentist's appointments and examinations, and also with proper oral hygiene and maintenance, you can surely enjoy your beautiful smile for many years to come.
Teeth-in-a-Day and All-on-4® Dental Implants
The All-on-4® treatment concept is a state-of-the-art innovative procedure that provides patients permanent attached (fixed) teeth utilizing as few as four dental implants. We offer you new teeth in as little as one day by using the All-on-4® treatment concept for those that are about to lose or have lost all their upper and/or lower teeth.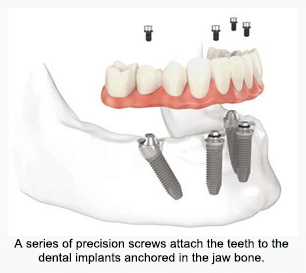 Benefits of Permanent Teeth in 1 Day
New teeth in as little as just one day
Minimally invasive procedure
No more ill-fitting dentures
Eliminates denture adhesives
Teeth are secure like your natural teeth
Cost effective compared to traditional implants
Life changing procedure
Multiple Teeth Options
If all upper or lower teeth are missing, multiple dental implants may be used to support a denture. Due to bone loss, traditional dentures may become loose and unstable over time. Dental implant supported dentures maintain bone so dentures remain stable in your mouth.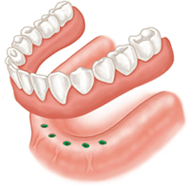 Implant Supported Dentures
Full chewing ability
Allows for a complete and healthy diet
Remains stable in your mouth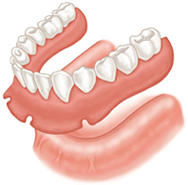 Traditional Dentures
Loss of chewing ability
Difficult to maintain a healthy diet
Loose and unstable over time
May lead to bone loss
Individual Tooth Options
Individual missing teeth can be replaced by dental implants without altering your healthy adjacent teeth. Once dental implants are placed, posts (or abutments) are attached, providing support for your final crowns.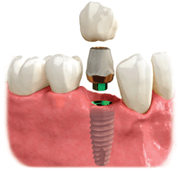 Dental Implants with a Crown
Attractive smile
Full chewing ability
Preserve healthy teeth and jawbone
Maintains bone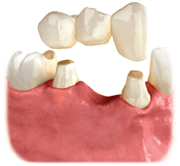 Traditional Crown & Bridge
Attractive smile
Grinds down healthy teeth
May lead to bone loss under bridge
Greater risk for cavities and tooth failure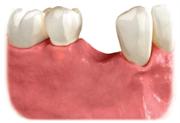 Untreated Missing Teeth
Unattractive smile
Loss of chewing ability
May lead to bone loss
Contact us today for a free consultation!