Dental Implants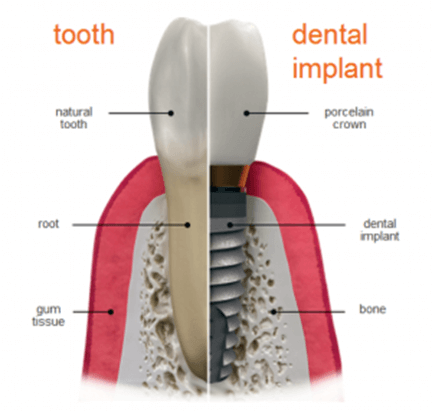 Dental implants are designed to permanently and securely replace missing teeth. Whether you are missing individual teeth or want to secure a full set of dentures, implant dentistry may be an excellent option.
How it works
The dental implant is placed below the gum line and becomes permanently fused to the bone. An advantage to an implant is that the missing tooth can be replaced without affecting the adjacent teeth.
Who is a candidate for dental implants?
Anyone in reasonable health who wants to replace missing teeth can be a candidate for dental implants. You must have enough bone in the area of the missing teeth to provide for the anchorage of the implants. If a patient does not have enough bone to support a dental implant, bone grafts can be placed.
Today, we use implants to replace small bridges, removable partial dentures, and missing single teeth.
What is the success rate of dental implants?
The success rate depends greatly on where the implants are placed. The most successful implants are those placed in the front portion of the lower jaw—these have a 98-100% success rate. In other areas of the mouth, success rates drop slightly. The success of implants in the front part of the upper jaw is 90-95%. And the success of implants in the back part of the upper and lower jaw is 85-95%.
Why have dental implants become so popular?
Dentures and removable bridges are loose and unstable. Implants provide patients with dental replacements that are both reliable and aesthetic.
Teeth-in-a-Day and All-on-4® Dental Implants
The All-on-4® treatment concept is a state-of-the-art innovative procedure that provides patients permanent attached (fixed) teeth utilizing as few as four dental implants. We offer you new teeth in as little as one day by using the All-on-4® treatment concept for those that are about to lose or have lost all their upper and/or lower teeth.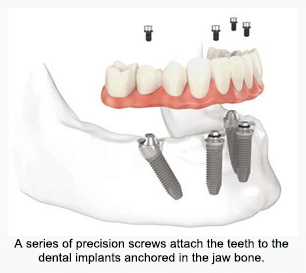 Benefits of Permanent Teeth in 1 Day
New teeth in as little as just one day
Minimally invasive procedure
No more ill-fitting dentures
Eliminates denture adhesives
Teeth are secure like your natural teeth
Cost effective compared to traditional implants
Life changing procedure
Multiple Teeth Options
If all upper or lower teeth are missing, multiple dental implants may be used to support a denture. Due to bone loss, traditional dentures may become loose and unstable over time. Dental implant supported dentures maintain bone so dentures remain stable in your mouth.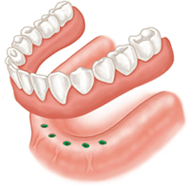 Implant Supported Dentures
Full chewing ability
Allows for a complete and healthy diet
Remains stable in your mouth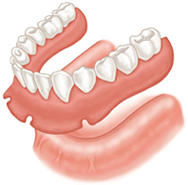 Traditional Dentures
Loss of chewing ability
Difficult to maintain a healthy diet
Loose and unstable over time
May lead to bone loss
Individual Tooth Options
Individual missing teeth can be replaced by dental implants without altering your healthy adjacent teeth. Once dental implants are placed, posts (or abutments) are attached, providing support for your final crowns.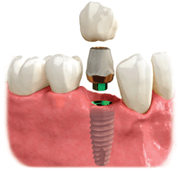 Dental Implants with a Crown
Attractive smile
Full chewing ability
Preserve healthy teeth and jawbone
Maintains bone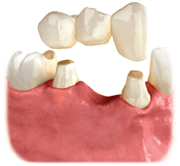 Traditional Crown & Bridge
Attractive smile
Grinds down healthy teeth
May lead to bone loss under bridge
Greater risk for cavities and tooth failure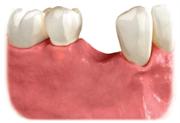 Untreated Missing Teeth
Unattractive smile
Loss of chewing ability
May lead to bone loss
Contact us today for a free consultation!