Dental Dentures Ottawa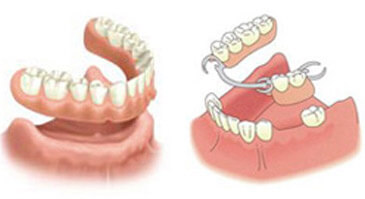 What are dentures?
Dentures are prosthetic devices tailored to replace missing teeth and surrounding tissues in order to restore oral functions and facial appearance. In the lay man's terms, dentures are a set of fake teeth. Dentures are chiefly of two types – complete and partial. A full or complete denture is used to replace a full set of teeth whereas, partial dentures are needed when some teeth are missing. If you need to know more about Dentures in Ottawa, read the remaining page.
Complete dentures
Complete dentures are of two types: conventional and immediate. The conventional denture is placed after gum tissue begins to heal following teeth removal. The teeth healing procedure takes around 8 to 12 weeks.
Immediate dentures are fabricated in advance and can be placed immediately after uprooting. As immediate dentures need no extra time for the teeth to get healed, the patient does not need to wait for 8 weeks before being able to use their teeth. But bones and gums shrink noticeably during the healing period. This is why immediate dentures need adjustments during the healing process to get fitted properly.
Partial Dentures
The base of partial dentures in Ottawa is made from either plastic or metal and customized to the patient's needs. Partial dentures are needed when a few natural teeth remain in either jaw. The fixed bridge replaces the set of teeth by placing crowns on the teeth and attaching artificial teeth to them. A partial denture will successfully fill in the space created by missing teeth and also prevent the neighboring teeth from traversing into the gap. A precision partial denture is different because it's detachable and has internal attachments.
How are dentures made?
It takes a few weeks and several appointments to develop a piece of denture. After a dentist determines the most compatible denture for a patient, the following steps are performed:
Jaw impressions are obtained to measure the jaw placement and space between the jaws.
Models in either wax or plastic forms are created replicating the exact shape and position of the teeth. The dentist will put on this model multiple times until he/she can properly assess the perfect color, shape, and fit before finalizing them for the denture.
Casting the denture.
The dentist will make final adjustments if necessary.
FAQs
1. Will dentures make me look different?
A: Your close ones may easily notice your new dentures but if you're smiling at a stranger, they surely won't notice them.
2. Will my eating experience be altered?
A: Just like walking with a prosthetic leg feels different and weird, it will be the same with prosthetic teeth. You should be avoiding bones and shells. Eat soft foods for some weeks and then move on to your normal diet.