COVID-19 Update
Dear Patients,
Life has been anything but normal this spring and we sincerely hope you and your family are in good health. We are happy to inform you that we are now able to once again provide dental care for you [and your family]. The Ministry of Health has lifted the restrictions placed back in March. While many things have changed since then, one thing has remained the same: our commitment to your health and safety. Our office has always followed strict infection control standards and in order to keep us all protected during this pandemic and in the future, we have updated our protocols.
When we see you at your next appointment, things will be a little different.
We will ask some screening questions before your appointment and you'll be asked those same questions again when you're in the office.
You may be asked to wait outside our office or in your car and call us when you arrive and then wait for a call back to let you know when you can enter the office.
We have hand sanitizer that we will ask you to use when you enter the clinic. There are more dispensers around the office for you to use as needed.
Our waiting room will no longer offer magazines or children's toys since those items are difficult to fully disinfect.
Appointments will be spaced out to allow for physical distancing between patients. That might mean less flexibility for scheduling your appointment, but it will also reduce the number of patients in the reception area at any one time.
You may be surprised that we're wearing more protective gear – such as masks, face shields, gowns – than we normally do during your visit.
Rest assured, all these procedures are designed to create the safest environment for you, other patients and our team. We look forward to seeing you again. If you have any questions, please let us know. To make an appointment, please call our office at (613) 232-8000.
Thank you for patience and loyalty throughout this ordeal. We value your trust and look forward to welcoming you back!
Sincerely,
Dr. Katia Doumit
Measures We Have Taken To Protect You From COVID-19 In The Dental Office
Patient Screening Protocols
Before you visit our dental office, we screen patients for any signs of acute respiratory illness, including COVID-19. Only Covid-19 negative patient are seen. RCDSO AND ONTARIO HEALTH ALLOW US TO PRACTICE ALL TYPE OF DENTISTRY NON ESSENTIAL AND HYGIENE. Please fill out this COVID-19 SELF-ASSESSMENT form.
We are following the protocol of RCDSO AND PUBLIC HEALTH.
Our schedule has been reorganized to allow enough time between patients.
All patients will need to fill out our COVID-19 Screening form. If you have tested positive you will need to reschedule your appointment.
Asking patients to take their own temperature or taking their temperature with non-contact forehead infrared thermometer.
Asking patients to wear a mask during their visit except when seated for treatment.
Protecting the reception desk with plexiglass. Disinfecting reception area between every patient appointment.
Digital Medical Forms
HEPA Filter And UV-C Air Cleaning Systems have been installed. (GermGuardian Air Purifies, see below)
Infection Prevention Protocols that meet RCDSO and Public Health Ontario Standards.
Time spacing between patients to clear aerosols.
Making hand sanitizers and face masks available to patients.
We are on The Ottawa Dental Society Emergency Service and on the RCDSO's List of Dental Offices that meet COVID-19 Safety Standards.
Digital Medical Forms
We have made the conscientious decision to digitize our medical forms. In order to further minimize a risk of COVID-19 spread, we attempt to offer an alternative to pencil and pen that get passed around from person to person. Our forms can be conveniently filled out on a computer or smart phone.
HEPA Filter And UV-C Air Cleaning Systems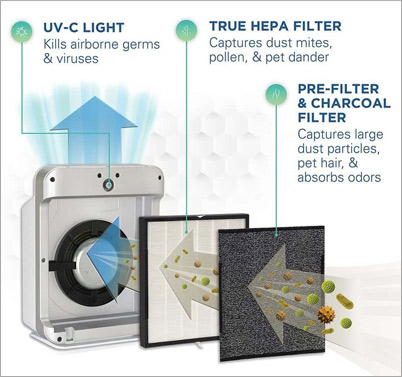 In each of our dental operatories and in our patient waiting area, we have installed GermGuardian Air Purifiers that feature true HEPA Charcoal Filters and UV-C Light technology.
The HEPA Filter captures 99.97% of dust and allergens as small as .3 microns such as household dust, pet dander, mold spores and plant pollens.
The UV-C light technology kills airborne bacteria, viruses, germs and mold spores.
Infection Prevention Protocols That Meet RCDSO And Public Health Ontario Standards
Infection prevention and control (IPAC) is a critically important part of safe patient care required by the Royal College of Dental Surgeons of Ontario (RCDSO) and Public Health Ontario (PHO). It involves rigorous evidence-based practices in the dental office to prevent the spread if diseases. At L'Esplanade Dental Centre, some of our IPAC protocols include:
Strict adherence to hand hygiene practices before and after seeing dental patient.
Wearing personal protective equipment including eye protection, face masks (such as N95 masks), nitrile gloves, face shields, and gowns.
Sterilizing reusable dental instruments under high heat and pressure, and using disposable dental instruments wherever possible.
Cleaning the dental suite with hospital-grade disinfectants after every dental patient.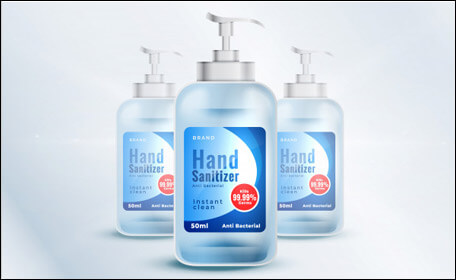 Making Hand Sanitizers And Face Masks Available To Patients
While in our dental office, we make available to patients hand sanitizer and face masks for them to wear until they are able to see Dr. Doumit.
Minimizing the Number of Patients in the Waiting Room
We schedule our emergency dental patients out throughout the day to prevent patients meeting each other on their way in and out of our office.
We Are On The RCDSO's List of Dental Offices That Meet COVID-19 Safety Standards
The Royal College of Dental Surgeons of Ontario publishes and regularly maintains a list of dental practices that meet COVID-19 safety standards and offer emergency services. For a dental office to meet safety standards, they must have access to and ability to safely use N95 masks, gloves, eye protection, face shields and protective gowns.