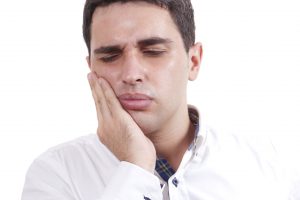 When we begin to develop jaw pain, it can be cause for worry. After all, this is  our jawbone – it helps us speak, chew and loads of other essential daily activities. If something is wrong with it and it goes untreated, it can cause issues down the road.
If you find that your jaw is slipping out of joint, you may be developing TMJ disorder. For some patients, the jaw can slip back into place; for others, it needs to be manually popped back into place by a physician. Eventually, this will begin to wear down the tendon, muscles and cartilage. In order to get a proper diagnosis, you will need to get a professional evaluation. This will likely include a CT scan and/or an MRI.
If it is diagnosed that you have developed some form of TMJ disorder, the treatment will depend on the progression that has already taken place. For the milder conditions, prescriptions are given for inflammation and pain. And because TMJ can be caused by stress, exercise and meditation can also help aid in the alleviation of pain. Night guards and hot or cold therapy are also some DIY options that can also help. Botox injection can be used to
relieve pain caused by TMD by relaxing the muscles.
If you appear to have a more acute condition, you may need to have some surgery. TMJ arthroscopy or arthrocentesis is a minimally invasive procedure that can be done as outpatient surgery. The recovery time for this procedure is about a week. A total joint replacement may also be the ultimate treatment. It will require a hospital stay and recovery is close to six weeks. So, if you are beginning to feel some jaw pain, be sure to get it checked as soon as possible.
Schedule your appointment today. Call Dr. Doumit in Ottawa, Ontario at 613-232-8000 or visit www.urbandentalcentre.com.
Dr. Katia Doumit proudly serves Ottawa and all surrounding areas.