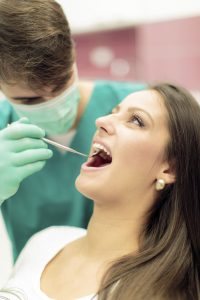 Do you suffer from asthma? Don't worry – this isn't a judgement. Asthma is very common. It's so common that roughly
339 million people worldwide
suffer from this inflammatory disease that narrows and inflames your airways to the point that it is difficult to breath. But did you know that asthma can also lead to future dental problems? It's true. And this is why you need to pay extra special attention to your dental health if you suffer from this affliction. Patients with asthma can experience a number of triggers, from weather conditions to airborne irritants like pollen and pet dander. When it causes issues breathing, it is likely you will use an inhaler. These inhalers are repressing salivary glands and limiting saliva production, causing you to experience dry mouth. Dry mouth allows for damaging bacteria to remain in our mouths and cause damage, like plaque build-up – and plaque is the beginning stages of bad breath, tooth decay and
gum disease
. Don't worry – asthma isn't the end of your great smile. But it is the beginning of an improvement to your daily dental hygiene routine. After you use your inhaler, rinse your mouth out with water. Not only will you kickstart saliva production, but you will rinse away any sugar your inhaler may be sweetened with to make it easier to use. In fact, drinking enough water and snacking on fruits like apples are great for increasing saliva production and reducing dry mouth. But above all else, keep up with your dental hygiene. Brush for two minutes, floss and rinse with fluoride mouthwash daily, but most importantly, keep your dental appointments. They are the only ones that can ensure you're doing a good job.
If you would like more information about the effects of asthma, call Dr. Katia Doumit in Ottawa, Ontario at 613-232-8000 or visit www.lesplanadedental.com.
Dr. Doumit proudly serves Ottawa and all surrounding areas.