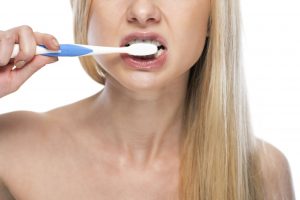 If there is anything that we know at this time, it's that we don't know very much. Our daily lives are changing every day, but there is one thing that remains clear – to remain healthy, keep your hands clean. The second rule? Don't touch your face. The thing to remember here is that germs love to invade our bodies through our mouths, so keeping our mouths clean and healthy is very important right now. When you think about how much time you spend on your teeth, it is important that you don't take things lightly. Brushing your teeth roughly for a few seconds each day isn't properly
taking care
of your teeth. Choose a soft bristled toothbrush and gently brush your teeth in a circular motion for two minutes, making sure to take time in each quadrant of your mouth (tops and bottoms, left and right sides). Flossing is a step many of use think of as a chore, but it is doing the extra steps to ensure nothing is allowed to set up camp inside our mouths. Choose your own
variation
, but make sure you floss at least once a day to get in between our teeth the way brushing can't. The more places bacteria have to set up camp inside your mouth, the easier dental issues will arise later on down the line. Rinsing with mouthwash is a thirty second journey that will disinfect our mouths the way brushing and flossing can't. Using it beforehand to loosen things before you brush is an option, and a rinse afterwards will add a nice finish to what a great job keeping our mouth clean. Prevention is the best way to keep ourselves healthy, and our dental health is on the frontlines of the health of our whole body.
If you would like more information about dental hygiene, call Dr. Katia Doumit in Ottawa, Ontario at 613-232-8000 or visit www.lesplanadedental.com.
Dr. Doumit proudly serves Ottawa and all surrounding areas.