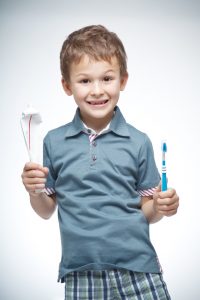 February is known as National Children's Dental Health Month and this year's theme is "Brush and clean in between to build a healthy smile". Now, when we think about our little human's teeth, we hardly think there is any reason to fret about them. But taking care of them now will also ensure the next set will come in healthy. As we settle into the second month of 2019, let's focus in on the tiny smiles in our family and make sure they have the best year as well…
Fruits and veggies. The good thing about fruits and vegetables is that not only are they good for our bodies, but they are crunchy and full of water, two things that are ideal for a healthy smile. Saliva production helps to cleanse our mouths of cavity-causing bacteria naturally.
Stay away from the 3 S's. There are three culprits in our dental health we should be aware of – sugars, starches and sticky foods. These three options for foods are always going to be a bad idea for your smile because not only does the sugar cause cavities, but sticky foods can cause these sugars to grab hold of your teeth. If you eat these foods, make sure to brush or rinse afterwards.
Daily dental care. We all know dental hygiene is necessary on a daily basis, regardless of the age. So, teach good dental habits early in order to ensure a lifetime of health smiles. Visiting the dentist early will also help to teach your little one that there is nothing to fear. It's a family affair.
If you would like more information about National Children's Dental Health Month, call Dr. Katia Doumit in Ottawa, Ontario at 613-232-8000 or visit www.lesplanadedental.com.
Dr. Doumit proudly serves Ottawa and all surrounding areas.