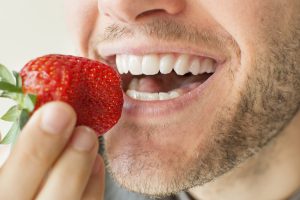 Now that you have finally gotten the smile you've always wanted you may begin to notice that the little lines in your face are becoming more predominant. Well, if it isn't one thing, it's another, right? Don't worry – you aren't alone. Aging is natural for everyone, but it doesn't mean we need to lie down and surrender to
the facts of life
. It's just time for a visit to the dentist. One of the ways a smile makeover is successful, is to have some facial rejuvenation done to improve the overall look of your smile. Here at L'Esplande Dental Centre Dentaire, we are proud to offer our patients two of these treatment options –
Botox and Juvederm
. These procedures have both been performed for years, but they are very different. Here is a quick breakdown:
Botox.
This option freezes muscles to stop creases and wrinkles caused by facial expressions. These are typically found in the upper face, such as the forehead and around the eyes. The results can last 3 to 4 months but is done in a single trip to the dentist.
Dermal fillers.
These fillers use hyaluronic acid and similar substances to "fill in" or plump areas that have lost volume and smoothness. This includes all of the places that are used when you smile – wrinkles around the mouth, thin lips, and cheeks that have lost fullness. But more than that, they may also be used on forehead wrinkles, scars, and other areas that need extra volume for a smoother look. Unlike Botox, these results can last up to half a year.
If you would like more information about facial rejuvenation, call Dr. Katia Doumit in Ottawa, Ontario at 613-232-8000 or visit www.lesplanadedental.com.
Dr. Doumit proudly serves Ottawa and all surrounding areas.